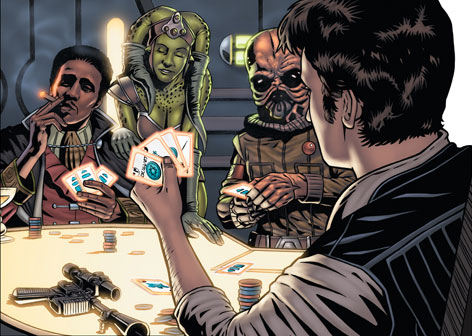 Art by Joe Corroney from "Underworld: A Galaxy of Scum and Villainy," Star Wars Insider 89
The e-book revolution has firmly taken hold and will continue to capture the digital hearts of Star Wars fans if Del Rey has anything to say about it.
At Celebration VI at the Del Rey and Essential Guide panels it was announced not only that books from the Essential Guide series would be making the conversion to digital e-book format, but also that Del Rey and Lucas Books are launching a new initiative of digital exclusive fiction.
Lucas Books' Senior Editor Jennifer Heddle summarized the announcement on
The Star Wars Blog:
"Tim Zahn announced that he's writing a piece of short fiction featuring Lando, as well as some other characters from Scoundrels, to be released in December, in e-book formats only. The up-till-then untitled piece was given the title "Winner Lose All" after Shelly wrote it down on a piece of paper for me right there during the panel and I said OK. As you can see sometimes the Lucasfilm approval process is extensive and exhausting. Ha ha. The plan is for this to be just the beginning of more regular e-only publications, giving authors and readers new opportunities to play in the Star Wars universe we might not have otherwise."
On
Facebook
Del Rey Editor Erich Schoeneweiss summarized the announcement from the Celebration VI Essential Guide panel, including the move of the EG series to include e-book editions.
"1) Beginning with WARFARE and READER'S COMPANION on October 2, Del Rey will release the Essential Guide books in eBook formats as well. After the first two books we will follow up with an additional Guide like ATLAS and GUIDE TO THE FORCE every few months. More to come on this."
It is good to see Del Rey attempting to stay ahead of the e-book curve in pushing new and exclusive content. Early in the e-book days there where a number of novella's released as well as a few full length Star Wars novels.
I really enjoyed Karen Traviss' novella,
Boba Fett: A Practical Man
. I certainly expect Timothy Zahn's "Winner Lose All" to be a winner, after all how can you fail when you have sabacc in the story?
SOURCES: STAR WARS BLOG and FACEBOOK