Del Rey's official Facebook page for their Star Wars publishing line, Star Wars Books has revealed a great deal of information and specifics regarding the Star Wars publishing calendar.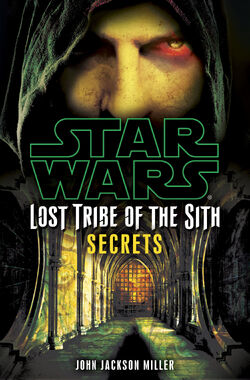 First coming out next Monday (March 5th) is John Jackson Miller's
Lost Tribe of the Sith #8: Secrets
for free digital download across various platforms.
The Complete Calendar update from Del Rey Editor Frank Parisi:
We have a few announcements to share with you today.
Theron Shan
First, DARTH BANE and REVAN author Drew Karpyshyn is cranking away on his next novel, STAR WARS: THE OLD REPUBLIC: ANNIHILATION. Republic agent Theron Shan and his Twi'lek compadre, Teff'ith (from Dark Horse Comics' STAR WARS: THE OLD REPUBLIC: THE LOST SUNS) must contend with a Sith Empire counter-attack against the Republic, spearheaded by the lethal apprentice of Darth Malgus. Satele Shan and Jace Malcolm co-star in what will be a fast-paced and tension-fraught tale based on the award-winning video game from BioWare and LucasArts.
The previously planned Nomi Sunrider novel (to be written by Alexander Irvine) has been cancelled due to changes in direction and concepts in the overall publishing plans. However, look for some exciting new announcements about 2013 (and beyond) in the coming months.
Teff'ith
Here is our new release schedule for the rest of the year (this does not include mass market reprints):
STAR WARS: FATE OF THE JEDI: APOCALYPSE by Troy Denning goes on sale MARCH 13.
STAR WARS: THE ESSENTIAL GUIDE TO WARFARE by Jason Fry goes on sale APRIL 3.
STAR WARS: SCOURGE goes on sale APRIL 24.
STAR WARS: LOST TRIBE OF THE SITH: THE COLLECTED STORIES by John Jackson Miller goes on sale JULY 31.
Aaron Allston's STAR WARS: X-WING: MERCY KILL goes on sale AUGUST 7.
Pablo Hidalgo's STAR WARS: THE ESSENTIAL READER'S COMPANION goes on sale AUGUST 21.
STAR WARS: THE OLD REPUBLIC: ANNHILATION by Drew Karpyshyn goes on sale NOVEMBER 13.
Lastly, Timothy Zahn shared a few details about his upcoming classic-era Han Solo heist novel on his Facebook page last week, but what he didn't say is that we'll be publishing it in Winter 2012. A firmer release date and title will be forthcoming very soon.
May the Force be with ya'll!
(FP)
The biggest news is the cancellation of the Nomi Sunrider novel, that we get a title and release date for Drew Karpyshyn's next The Old Republic novel, now titles Annhilation and scheduled to be released on November 13, 2012. We also got a tentative date for Timothy Zahn's new Han Solo novel, that we learn will be a heist caper and is due out Winter of 2012.
Source: Star Wars Books on Facebook