One of the scenes that struck me most from the Clone Wars Season Five trailer is the image of Ahsoka in a travelers cloak making her way through a subway car and the scene ends with her swinging on a hand railing and kicking two individuals who look to be security guards. Of course this got my spidey-senses tingling. What do we have here? Let me throw some random speculation on you.
Now so far in TCW I believe the only human police officer we have seen on Coruscant is
Lt. Tan Divo
. The other times we have seen beat cops on Coruscant they have been droids.
But if you look at the two individual above that Ahsoka is about to kick, they are wearing a very similar style of gear as to this image of a Coruscant Security Force (CSF) member shown on
Wookeepedia
.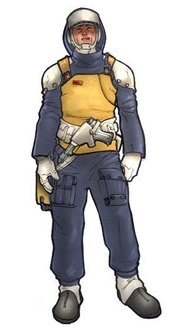 Looks pretty similar right? Well let me get my detective's magnifying glass again and resort to my old friend Aurebesh. There are two letters printed on the armored characters backs, peth (p) and dorn (d), or put together PD, which is the common abbreviation for police department.
So this has me thinking that this "subway" car for lack of a better word is either part of the Coruscant Subway system we saw in
Episode 24 of the Tartakovsy series
, or one of the hovertrain.
Now why would Ahsoka be running from the police? Well let's assume it is a fugitive scenario, which is a nice hat tip to actor Harrison Ford (Han Solo and Dr. Richard Kimble in The Fugitive). We would then assume that Ahsoka was like Kimble framed for some crime.
So what do I think is going on. We know the Clone Wars are winding down and Palpatine has his eyes on Anakin as his next apprentice. So it is time to start pressing the levers in Anakin's life. I think in another story arc we will be seeing assassination attempts on Padme as it look like Embo has it out for her. I also think that Palpatine surreptitiously puts out a bounty on Ahsoka Tano.
Ventress decides to take the bounty.
As the Clone Wars drag on, unrest and suspicion of the Clones and the Jedi begin to rise. Asajj sees her opportunity to flush her quarry out into the open and frames Ahsoka for an attack on an anti-war protest.
"There are some citizens of the Republic who believe the Jedi Order is not what it used to be."~Purple Lady, maybe she is a big Prince fan.
Ahsoka is about to be arrested and she flees knowing that everyone thinks she is responsible for the attack and only she will be able to track down who framed her.
Ahsoka's fleeing from the authorities and search for the real attacker takes her into the Coruscant undercity where she is pursued by police as well as Asajj Ventress. In her hunt for Ahsoka, Ventress also runs into Clone Coruscant security officers (the red clones) who interfere with her tracking her quarry.
So look at the set of images below and think about this as a rough outline of the story.
Asajj dispatches clones that are in her way.
Asajj attacks Ahsoka from above
Asajj and Ahsoka duel #1
Ahsoka almost killed by explosion
Asajj Moves in for the kill
Asajj and Ahsoka duel #2
How does the duel end? Now that could be interesting. What do you think of my theory?