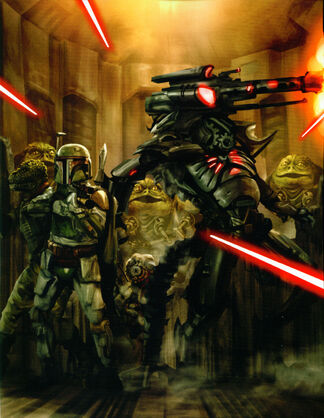 Artwork by Chris Scalf
Every so often a cause arises that garners global support. Once again one of these causes has arisen, what tragedy has occurred you may ask? Was there a hurricane? An earthquake? A pandemic? Nay, the unparalleled crime against humanity is HASBRO's failure to produce a 3.5" D'harhan action figure.
If Kyle Newman (director of Fan Boys) can have his pet cause Ben Quadrinaros be immortalized in mass produced plastic, then any character no matter how insignificant can be reach the adoring masses of Star Wars collectors.
D'harhan gets the spotlight in Jason Fry's recent
Essential Guide to Warfare
and now is the time for D'harhan to finally get what he truly deserves, an action figure and a digital insertion into the Original Trilogy with a special re-release.
Fry recounts
on his Tumblr
the reaction of the Keeper of the Holocron Leland Chee to artist Chris Scalf's D'harhan masterpiece:
"I laughed when I read Leland Chee's reaction to Chris Scalf's painting: "I want my D'harhan action figure." Me too! How about it, Hasbro? " ~author Jason Fry
Lets go HASBRO and Lucasfilm, lets make it happen!
The D'harhan Action Figure Committee (DAFC) approves this message.
UPDATE:
Andy (@canadianfanboy) has built a Facebook Page and a Change.Org Petition to move our Campaign forward. Please LIKE the Facebook page and sign the petition. Stand and be counted!