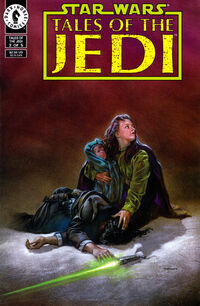 We have a working title for the much anticipated Nomi Sunrider novel by Alex Irvine.
The Star Wars novel, tentatively titled

Mandorla,

is now scheduled for December 2011...and there's a lot more in the hopper, dates TBD
Alex Irvine's blog
What does "Mandorla" mean?
There seem to be two main definitions of it, 1)
in
religious art
, almond-shaped aureole of light surrounding the entire figure of a holy person. 2) The other is two overlapping circles, where the section of the middle where both circles interact is to represent opposing forces and/or worlds interacting.
What does this mean for the novel, I have no idea. And why not just call it the "Adventures of Nomi Sunrider" Well that is a longer and more mysterious story......
Nomi Sunrider is a character created by Dark Horse comics for its Tales of the Jedi series, for those not aware.
The most interesting thing about this novel announcement is that apparently there are legal issues involving the name "Sunrider" which prevents Lucasfilm from using the name on the cover of a book.
At some point in time, legal issues began to arise over Lucasfilm Ltd.'s use of the name "Sunrider."[9][10] It remains unclear to the public who the offended party was, but many fans have speculated that a lawsuit was filed by the Jeep Corporation,[11][12][13] who manufacture a trademarked jeep soft top called "Sunrider."[14] Although this rumor has not been verified by any Lucasfilm employees, the existence of legal issues surrounding the use of the name has.[9][10] When the 2003 video game Star Wars: Knights of the Old Republic was in development, Vima Sunrider was slated to be one of its protagonists, but the legal issues prompted the development team to instead create a new character named Bastila Shan.[9][15] The game is set thirty years after the final story arc of Tales of the Jedi and references Nomi several times, but only once by her last name.[16] That instance was an oversight by the development team. They were also forbidden from using the name in the game's 2004 sequel, Star Wars: Knights of the Old Republic II: The Sith Lords.[9]
Presently, the legal issues continue to exist, but do not preclude the appearance of a Sunrider within Star Wars media, nor the use of the family name. The latter is permissible within the body of a text where it cannot be confused with any other trademarked product, but cannot be used in a book's title nor be attached to an action figure.[10] Nomi has been mentioned by her full name in several recent novels and sourcebooks,[17][18][19] and will star in a novel set to be released in 2011.[20]
Wookieepedia