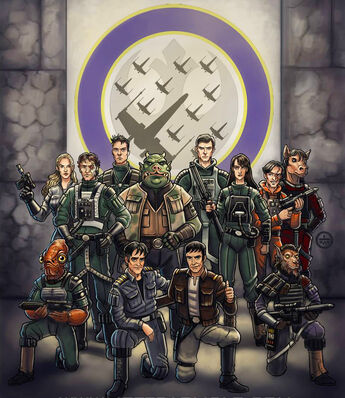 "Pretty. What do we blow up first?"
The crew over at Del Rey are such teases and they are back at it again beginning a series of mini-excerpts from Aaron Allston's forthcoming novel,
Star Wars: X-Wing: Mercy Kill
.
So far we have had two excerpts released from the novel:
Excerpt 1: "He crawled southward, keeping well below the trench lip above.
Myri followed, occasionally peeking up above the rim to see her surroundings. "My father was on the Death Star Trench Run. You know, the famous one. Me, I get the General's Basement Trench Crawl." "
Excerpt 2: "Then she noticed that Trey had stopped talking. Instead, he was leaning forward, his forehead pressed against a heavy-duty, locking transparisteel cabinet.
Myri moved until she could see his face. "Four? You suddenly look like you want to cry."
"I do." He stepped back from the cabinet and shone his glow rod on its contents.
The cabinet had two shelves, themselves transparisteel. On the top shelf were two silvery bowl-like stands, and in each rested a globe larger than a balled human fist—a globe with dials and a depressible button.
Myri stared at them for a moment, then clamped her hand over her mouth to suppress a gasp. "Thermal detonators."
"Two of them." Trey's voice was almost rapturous. "I have to steal these." "
Mercy Kill will be released on August 4th.
Publisher's Summary:
The intrepid spies, pilots, and sharpshooters of Wraith Squadron are back in an all-new Star Warsadventure, which transpires just after the events of the Fate of the Jedi series! Three decades have passed since Wraith Squadron carried out its last mission. Taking on the most dangerous and daring operations, the rogues and misfits of the elite X-Wing unit became legends of the Rebellion and the Second Galactic Civil War, before breaking up and going their separate ways. Now their singular skills are back in vital demand—for a tailor-made Wraith Squadron mission.
A powerful general in the Galactic Alliance Army, once renowned for his valor, is suspected of participating in the infamous Lecersen Conspiracy, which nearly toppled the Alliance back into the merciless hands of the Empire. With orders to expose and apprehend the traitor—and license to do so by any and all means—the Wraiths will become thieves, pirates, impostors, forgers . . . and targets, as they put their guts, their guns, and their riskiest game plan to the test against the most lethal of adversaries.