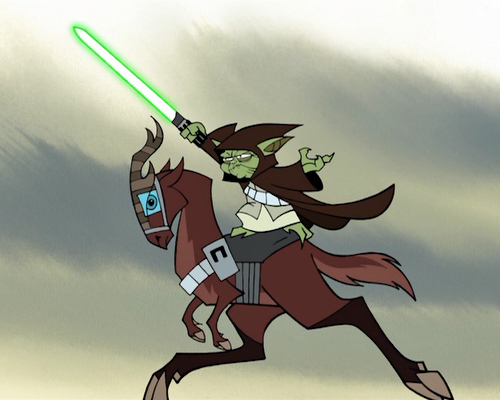 There is a gap in my Star Wars Blu-ray collection that is just screaming to be filled. We have Blu-ray releases for the original trilogy, the prequel trilogy, the Lego Star Wars: The Padawan Menace special, and each season of Star Wars: The Clone Wars, yet one of the most recent Star Wars video releases has yet to get the Blu-ray treatment.
Genndy Tartakovsky's micro-series premiered on the Cartoon Network in 2003 and subsequently saw a two-volume DVD release in 2005.
Currently these DVD's retail on Amazon.com for $38.02 for Volume 1 and $45.94 for Volume.
Transitioning this series to a single Blu-ray disc release simply makes to much sense to be ignored and seems like a simple way to make a few bucks for Lucasfilm.
Volume 1
contains 20 3-minute episodes and has a run time of 69 minutes, while
Volume 2
contains 5 12-minute episodes and has a run time of 64 minutes.
I can understand not wanting to confuse kids and parents regarding the current Clone Wars series, but fans should be able to purchase this series without having to go the "used" copy route.
I am sure that many of my fellow fanboys and fangirls would agree, can we have the Tartakovsky series in Blu-ray? Pretty please?