Due to the Christmas Holiday we took a day off, so we are double dipping today with a pair of fun looking creatures. While the original Star Wars film, A New Hope had it's massive menagerie of aliens in the Cantina scenes, the Prequels saw their diverse alien cast spread more liberally throughout the films. But for The Phantom Menace, there was one scene that really showed off the diverse alien species in the galaxy far, far away, the Boonta Eve Classic.
Today we take a quick look at a pair of podracers.
Clegg Holdfast and Dud Bolt.
Clegg Holdfast was a Nosaurian male podracer from New Plympto. What I liked about Clegg was his distinctive horns, his interesting badges and ribbons, and his ability to walk away from a crash.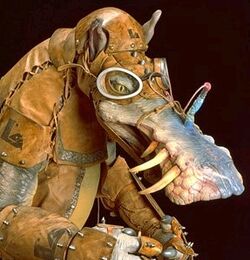 Dud Bold was a Vulptereen male podracer, who looks like a pre-historic sabertooth crocodile.
If you want to read more about the glorious racing careers of
Clegg
and
Dud
visit their Wookieepedia pages.