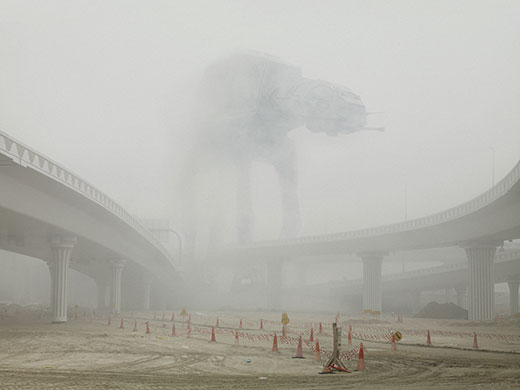 That sound you heard is either my jaw hitting the floor or an AT-AT walking down the freeway behind you.
In what appears to be a trend in publishing, we are seeing another high-end non-fiction book being published related to Star Wars.
This time it is a book of art by French photographer

Cédric Delsaux, entitled

Cédric Delsaux: Dark Lens.
The 118 page book is due out October 31, 2011 at a list price of $70.00, but Amazon.com has it for pre-order at $47.25.
The book is due to be published later this year and has an introduction by Lucas, who writes: "Over the years, many artists have interpreted Star Wars in ways that extend well beyond anything we saw in the films.
"One of the most unique and intriguing interpretations that I have seen is in the work of Cédric Delsaux, who has cleverly integrated Star Wars characters and vehicles into stark urban, industrial – but unmistakably earthbound – environments. As novel and disruptive as his images are, they are also completely plausible."
To view of gallery of Delsaux's work visit his
website
, there are some great images there.
SOURCE: The National and The Guardian UK