Star Wars Books on Facebook has released a little teaser excerpt from the next Fate of the Jedi novel, Ascension by Christie Golden scheduled for release 8/9/11.
FATE OF THE JEDI: ASCENSION mini-excerpt #1 (ES):

She pointed to a message flashing on the screen.
INFORMATION YOU WILL WANT TO HAVE.
SAFETY FOR YOUR FAMILY GUARANTEED.
REPLY FOR MORE.
"Short and completely mysterious," Han mused, frowning a little.
"It came in on my private channel."
"The one only about six people and two droids have access to?"
"That would be the one."
The "She" has to be Leia, sounds like Han and Leia are probably in the cockpit of the Falcon when Leia gets a covert message. We also know most of the people who have the private channel, C-3P0 and R2 are the two droids, then you have the obvious Luke, Ben, Jaina, Tenel Ka as well as the almost certain Jag (Jaina's fiancee), Saba (Leia's former Master), and Winter.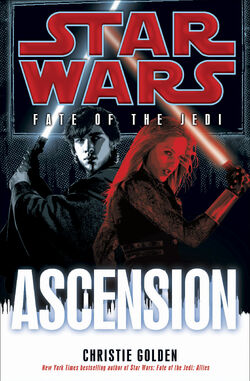 The question becomes who is the mysterious messenger? Could it by Wyn Dorvan former Chief of Staff for Chief of State Daala? Could it be fugitive former Jedi Tahiri Veila? Could it be some spy within the GA government? A conspirator having second thoughts? Could it be an old smuggler ally such as Talon Karrde?
The line "Safety for your family guaranteed," makes you think that this source of information is going to propose a clandestine meeting that will involve Han/Leia/Allana's sub-plot in Ascension.
The other question is what could the information be about? Sith movements/plans? Conspiracy withing GA government? Danger to Allana?
SOURCE: STAR WARS BOOKS ON FACEBOOK