Lightsaber Rattling recently had the privilege of talking with Star Wars author extraordinaire John Jackson Miller about a wide variety of topics including his new comic book series and novel
Knight Errant
.
Mr. Miller is most famous for his
Star Wars: Knights of the Old Republic
comic book series published by Dark Horse Comics which ran from 2006 until 2010. Currently he is working on the
Knight Errant
comic series,
issue #4
of which will be released on January 12th. He is also scripting the
Mass Effect
comic also published by Dark Horse Comics. Ongoing is the
Lost Tribe of the Sith
series, which are free e-book novellas released by Del Ray/Lucas Books. The
LTotS
series ties into the Hardcover novel series Fate of the Jedi and the series is on its 5th of 8 books. Mr. Miller also has his debut novel coming out on January 25th, titled
Knight Errant
, it shares it's title and main character with the comic series, but is written as a standalone novel that doesn't require knowledge of the comic book to enjoy.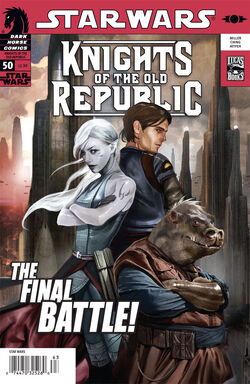 First of all, thank you for agreeing to be Lightsaber Rattling's first interview victim. So far your
Star Wars
work has been set in the Old Republic era between the years of 5,000-1,000 BBY, is there something in particular about this vast and relatively uncharted portion of the Star Wars time-line that drew your interest as a storyteller?
John Jackson Miller

:
It's nice to be able to write in a time where there's room to maneuver, story-wise. The Knights of the Old Republic comics series was set seven years before the first video game, which was plenty of room; fifty issues of stories took maybe a year of in-universe time. Still, there were a lot of questions about connections between that period and those nearby. With
Knight Errant
, we're a full generation before the
Darth Bane
novels, so it's much more of an open playing field. No one knows what the future holds for any of our characters yet.
Lightsaber Rattling:
If you could write(novel or comic form) in any of the other Star Wars publishing eras (Rise of the Empire, Rebellion, New Republic, New Jedi Order, and Legacy) which would be most interesting for you to tell a story in? Is there a particular character or characters from a different period of time that you would love to write?

John Jackson Miller:
So far, really the only work I've done with the movie characters (besides the

cameo appearances

in "Vector") was

Star Wars Empire

#35, a

Darth Vader

story that appears in Empire Vol. 7: The Wrong Side of the War. It's always fun to work with the movie characters, so that might be fun to do at another time.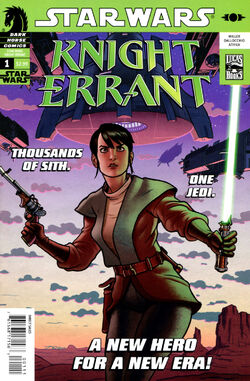 Lightsaber Rattling:
You are someone who is deeply involved in researching and tracking

comic book sales

, pricing and related statistics, as can be seen on your website:

http://www.comichron.com/

. You are also someone who is being digitally published in your

Lost Tribe

of the Sith e-book series. How do you think digital publication is going to affect the future of the comic industry?

John Jackson Miller:
Digital means different things to different media, I think. In comics, digital sales are growing, but still less than 1% of annual sales. It's possible that one day that could grow much larger, and take its place alongside

trade paperback collections

as another format contributing to the bottom line — but I don't think the role will be to replace the printed comic book, which has its own unique qualities that readers like. For now, digital is really helpful as a promotional tool — later on; certainly, the hope is that it'll help us reach readers that aren't being reached now with current formats.

With prose it's a little more complicated as there are a lot of formats, like short stories, that weren't that profitable in the past because there just weren't enough markets for them. Now, there are a lot more opportunities to tell stories in different ways, and get them out there. It's interesting to see how things are developing.

Lightsaber Rattling:
How do you approach storytelling differently going from the comic format (

Knight Errant

,

Knights of the Old Republic

) where the images tell the readers a lot about the setting, the characters and the action going on, as opposed to the prose fiction format (Knight Errant, Lost Tribe) where your words paint the picture?

John Jackson Miller:
Well, just like that — I have a talented team of artists in the comics to help provide the picture, and so I'm more likely just to give some guidance on character looks and starship designs. My role there is more in staging the scenes, and saying what the characters' expressions are, and that sort of thing. In prose, it's all up to me. It can be challenging to describe a lot of characters fully in the short story form, so I tend to focus only on a few there; in the novel, there's more space to show everything.
Lightsaber Rattling:
Speaking of your

short story work

, the

Lost Tribe

of the

Sith

(LTotS) series is a set of 8 short stories that tie into the

Fate of the Jedi series

and give us the back story for a marooned group of Sith and their descendants on the planet Kesh. How do you approach creating

heroes and villains

, or perhaps protagonists and antagonists, in a setting full of Sith where everyone could be considered a villain to some degree?

John Jackson Miller:
The fun thing about the group that crashes on Kesh is they're not necessarily Sith-Lords-in-waiting. Many have Force skills and all of whom adhere to Sith teachings — but they're also a mix of miners and warriors sent on an assignment to procure crystals for Naga Sadow. Specialists and minions. But when we strand them away from the rest of the galaxy, we soon see that everything's changed for them. While it might not have been possible for some of them to rule the galaxy, a single planet is another story — and of course, since they're all thinking the same thing, that makes for a busy place.

But there are always going to be differences in approach with them; some like brute force, others, intrigue. Some play the game to their advantage; others try to flip over the table. Within that, we can usually find points of view to root for.

I'm glad there's a lot of interest in the Lost Tribe series; as free stories, they're a fun little point of entry into the

Expanded Universe

. Spread the word!



Lightsaber Rattling:
In your production notes for LTotS: Paragon, you mention that after writing from the point of view (POV) of the villain Seelah Korsin, you felt like you needed a bath. How do you feel after swimming in a sea of evil for the

Knight Errant

novel and comic series with all of the villains that you have created like Daiman, Odion, Quillan, Dromika, and Arkadia?

John Jackson Miller: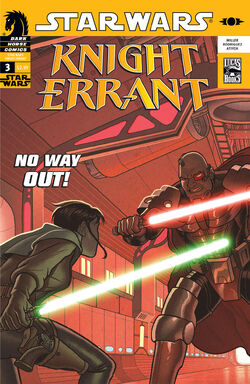 They're all different, and that's what makes them enjoyable to me. If they were all clones of characters we've already seen, it wouldn't be as interesting.

Palpatine

and Vader are characters that represent the culmination of a lot of forces and events that have gone before; you wouldn't be able to transplant them in this early time very easily. They already know what it means to be Sith; they have Bane's example, and lots of history before them. But Bane comes at the end of a long period in which rivals are still sorting out what Sith doctrine should be. While there are certainly many Sith in earlier eras (including the Lost Tribe and the KOTOR and TOR games), it's clear that the convulsions of the Knight Errant time have resulted in a lot of schisms on that score.

So Daiman latches onto one part of Sith philosophy and takes it to an extreme; Odion goes in another direction. The others you mention, seen in the book, go off in some surprising directions, as well. That really keeps it fresh to me — and makes it worth the feeling sometimes gotten from sharing minds with these characters!
Lightsaber Rattling:
Wow, great answers. In closing, for fans who haven't yet read the

Knight Errant

comics, and without giving too much away, who is Jedi Knight Kerra Holt and what do fans have to look forward to when the Knight Errant novel is released

on Jan. 25th

?


John Jackson Miller:
As the sole Jedi working a wide area of space controlled by the Sith, Kerra's been forced to make decisions about what things she can and can't do to help the people. It's clear she's not going to be able to push back the warring

Sith Lords

all on her own, so she's set to work pouring sand into the

war machines

, slowing down the pace of internecine destruction. Because while having the Sith Lords at war with each other may sound like a good thing for the Republic, it's clearly not good for those caught between.

She's always faced with decisions over what she should be doing, and often, those decisions are taken away from her. The result is a journey through Sith space, in which we encounter some other, very different regimes — and chances for Kerra to potentially get her mission back on track. It really is an odyssey, in which she finds out as much about herself as the would-be Sith Lords she's fighting.
========================================================================
For the latest Lost Tribe of the Sith releases please visit Star Wars.com